President of Pakistan confers National Award on Prof. Jansen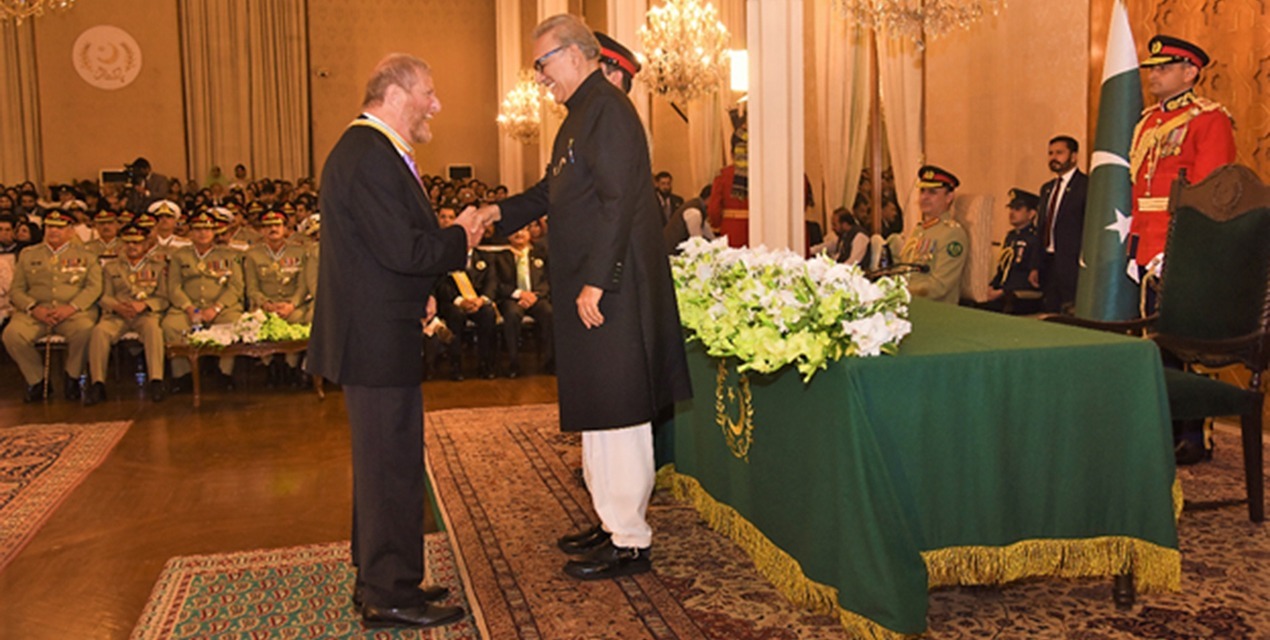 HE Arif Alvi, Honorable President of Pakistan has conferred the National Award of "Hilal-e-Imtiaz" (Crescent of Distinction Medal) on GUTech's Founding Rector, Prof. Dr. Michael Jansen at the coveted "investiture ceremony" convened on Pakistan Day, March 23, 2019, at the Presidency in Islamabad. The medal, the second highest civilian award and honour given by the Government of Pakistan, was bestowed in recognition of Prof. Jansen's services to the research on the Indus Valley Civilisation.
Prof. Jansen, who was awarded a PhD (1979) for his paper, "Architecture of Indus Valley Civilisation" was previously decorated with the "Sitara-e-Imtiaz" (Star of Distinction), the third highest honour and civilian award in the State of Pakistan, in 1987. He thus joins the exclusive group of persons with two national awards and the only one in the field of the Indus Valley, which bears testimony to his lifelong, passionate services to Mohenjo Daro, the jewel of the third millennium Indus Valley Civilisation.
HE Shafqat Mahmood, Honorable Minister of National History and Literary Heritage and HE Ambassador Aizaz Chaudhary, Director General of the Institute Strategic Studies Islamabad (ISSI), a premier think tank, received Prof. Jansen on March 21 and 22 respectively.
During the award ceremony Prof. Jansen presented the outline of "Heritage Management Strategy" which aims at establishing vertical and horizontal national structures and integrated regional networks to preserve and promote Pakistan's deep and diverse heritage, including the 5.000 year old "Indus Valley" and 2.000 year old "Gandhara" civilisation and glorious monuments of Hindu, Buddhist, Christian and Sikh faiths.
A symbolic award ceremony took place two days later, March 25th, in Muscat Oman during a diplomatic reception to commemorate the 79th Pakistan Day that was held in the picturesque gardens overseeing the sea at Crowne Plaza Hotel. The event was hosted by HE Ali Javed, Ambassador of Pakistan to Oman and it was attended by Muhammad Nasir Muhammad Al Rasbi, Secretary General (MoS) Defence as the guest of honour along with Ambassador Sayyid Muhammad Al Said, Majid Al Rawahi, Leader Pak-Oman Friendship Group in State Council (Upper House) and other parliamentarians, federal secretaries and representatives of Sultan Armed Forced were among Omani delegates. Dr. Noor ul Haq Qadri, Minister of Religious Affairs and Interfaith Harmony graced the occasion at special invitation of the Mission as the chief guest at the event characterised as both historic and unprecedented, drawing 500 guests including Royal Family, Diplomatic Corps, intellectuals, academia, artists, youths, professionals, higher executive staff and the diverse spectrum of Pakistani community.